This is a big subject, but we're going to try to distill things and send you down a path you feel confident about. To begin, you should know that there are many ways to create beautiful guitar inlays. Some inlaying techniques/cultural variations you may wish to Google: marquetry, parquetry, Boulle work (if you're feeling fancy), khatam, intarsia, damascening, and yosegi. The list goes on..
There are countless materials, tools, and methods – none is superior to the other because this is an artform.
As you improve your technique and branch out into new materials, you'll find yourself making creative choices to realize your vision with a personalized touch. For now, however, you just need to get the basics down.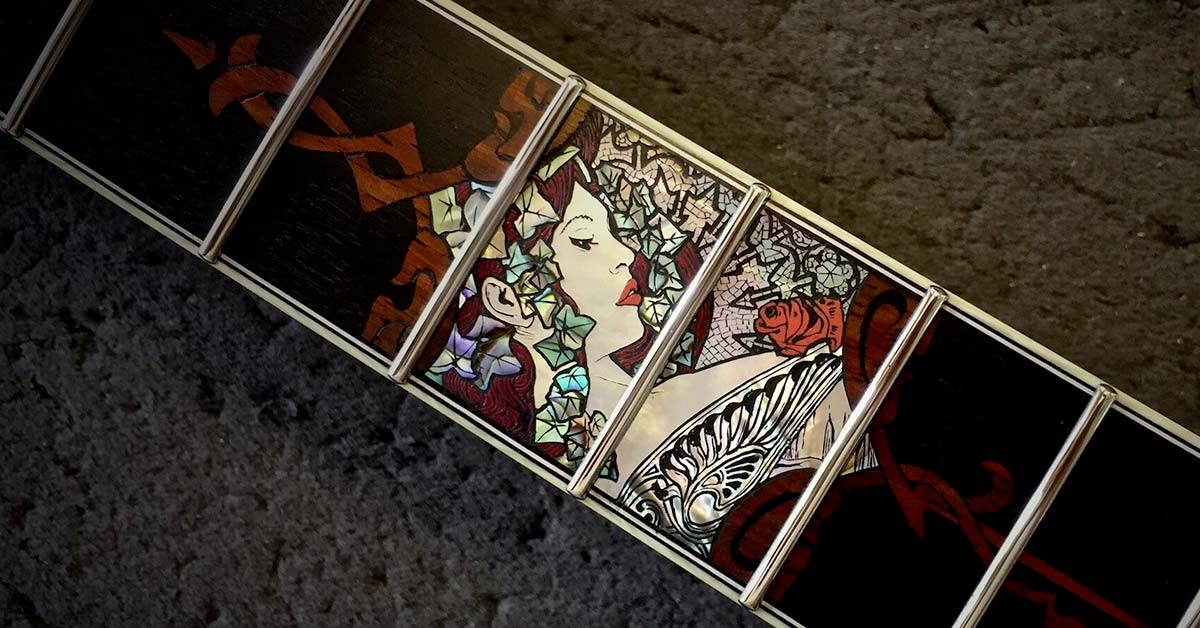 There are 4 phases of inlay making: design, delineate, deboss, and finish. There are probably more descriptive words to use for these processes, but it sounds better with three Ds.
Design refers to selecting your inlay location, materials, and sketching its shapes. Delineation is simply cutting out the shapes of the design you've chosen. Debossing is carving the shapes into your wooden surface of choice.
After that, there's the finish phase – gluing, filling, and mounting the pieces, then sanding, polishing, and surface treatment. There's nothing really that begins with a D to cover that process so we're just going to have to deal with it.
Chances are, you have a bunch of ideas in mind already, so there's no need to look for inspiration there. Before you commit to a design though, just remember that your methods and materials can provide new creative opportunities and limit you in other ways. You'll learn about some materials next to help you fully realize your vision.
When you're creating your first design, try to keep it on the simpler side. Instead of writing your entire name, just do the first letter. Instead of inlaying a tree, do a leaf. Your inlay should be planned fully before you pick up any tools. That includes your initial drawing, location, and material selection.
We're not going to teach you how to draw. Just how to make the right choices for your design. Many luthiers perform their initial design work with a pencil and paper laid against the prospective inlay location. A vector-based program like Adobe Illustrator is best. It features the most comprehensive toolset around and a super intuitive pen tool. It can also export directly to DXF format, which is perfect for CAD/CAM work (not applicable here, obviously).
Free alternatives include Inkscape (Win/Mac/Linux), Vectr (Browser), and BoxySVG (Win/Mac/Linux/Browser).
They all have similar pen tools to Adobe Illustrator, which is important for making freehand artwork with flawless curvatures. All three of these free options can export to SVG (which can be imported into most CAM software programs). For hand work though, exporting to PDF is preferable, particularly for printing purposes. You want to be sure your printed design is the correct size.
---
Drawing Notes
Here's the main thing to remember: simplify.
If you're reading this, you're not a pro at inlaying yet. You will be soon, but until then, take this advice to make your life easier.
We need to exercise some restraint when selecting a design to work with. That doesn't mean you can't pick whatever you want, but you may want to simplify it. One way to do this is to utilize Adobe Photoshop, Illustrator, Inkscape, or other image-editing software to create more manageable artwork from images or detailed sketches.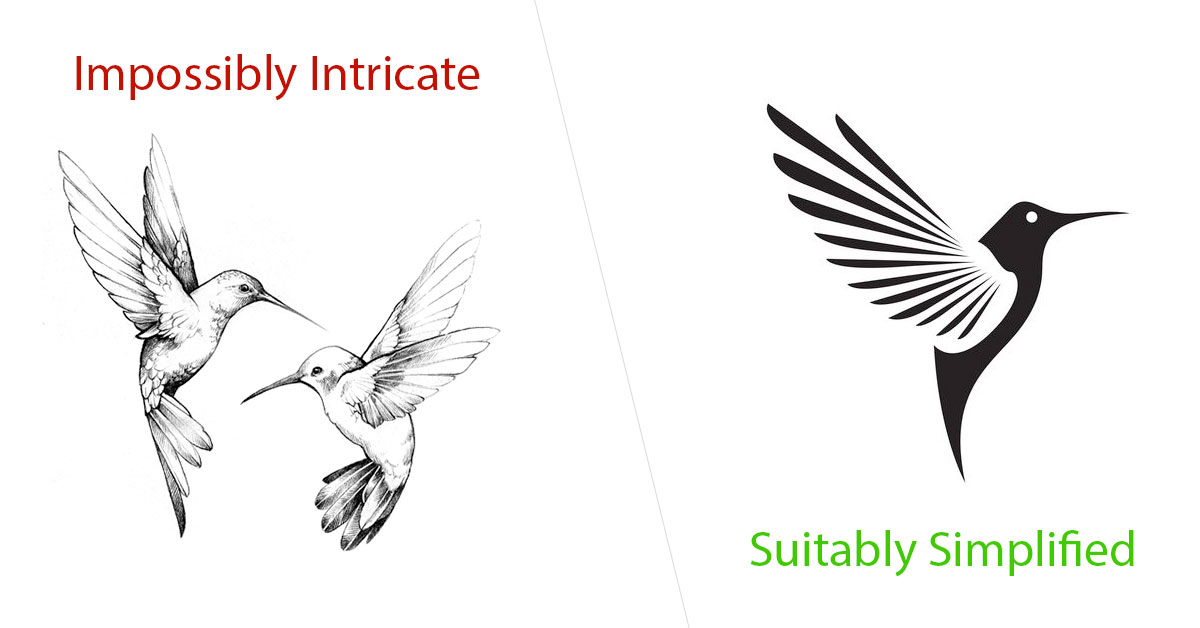 Many inlay artists use Adobe Illustrator or similar vector artwork programs to turn a photo into a simplified silhouette of itself. The first step almost always involves tracing the key figures with the pen tool. Taking artistic liberties to stylize your work after the basic shapes are drawn can yield some excellent results. You may find plenty of vector artwork available online that fits this description with a simple Google search.
Rather than attempting to fill every single space with an inlay piece, use the negative space to your advantage. If you're inlaying a leaf, save some effort and leave the vein shapes out of it – the wood below will fill it in. Remember this when you're tracing images into workable silhouettes.
Theoretically, there's no 'wrong' place to put an inlay. But there are extremely difficult places you should try to avoid as a beginner. You'll mostly find inlays on the headstock, fretboard, and top of the body. You'll note that these are typically flat areas*.
Do yourself a favor and avoid contoured areas to start. Actually, do yourself a bigger favor and practice on a flat piece of scrap wood first.
* A finished fretboard is technically a curved surface when you consider the radius. Creating your inlay before radiusing the fretboard is preferable for most people. However, don't worry if you don't have that luxury – the radius curvature is very light. You can make compensations in your measurements for the extra depth toward the edges of the fretboard.
Whatever location you decide to inlay, take some area measurements.
Inlaying material can be anything. As long as you can make it stick, and as long as it sands and finishes ok. There's a ton of room for creative innovation when it comes to material selection. Some common choices are Mother of Pearl (a blanket term for various shell types), hard & soft metals (copper, nickel, bronze, etc), wood, and epoxy/fillers.
Luthiers like Yuriy Shishkov (take a look at his work) have used thin metal veneer strips to accentuate their inlays. The result is something you may expect to find in a royal palace.
Take a look at some of the examples below to help you form some ideas.
---
Mother of Pearl
Mother of Pearl (sometimes abbreviated MOP) is a blanket term that covers three different types of mollusk shells: abalone, freshwater oysters, and pearl oysters. These three mollusks secrete something called nacre as a defense mechanism. Nacre coats the insides of the shells to protect from foreign invaders and irritants. It hardens like lacquer, leaving a beautiful silky, iridescent surface.
The colors reflected in these mollusk shells can vary between pearly white to complete rainbow spectrums. This is why we use these shells for inlays. Clam shells just aren't the same. Tortoise shells used to be popular for inlaid furniture centuries ago, but let's leave them alone now. They've suffered enough.
Bone/ivory has been used for inlaying throughout history as well, but the effect is much the same as a white shell. Saying "ivory inlays" sounds fancy, but there's no need to destroy an elephant for a marketing gimmick.
---
Wooden Inlays
There's really nothing much new to say here that you probably don't already know. Wood comes in a variety of shades and grain patterns (read more in the wood selection guide). If you're looking for something a little fancier, figured wood (read more in the figured wood guide) inlays can really set your work apart.
Aside from looking beautiful right off the branch (so to speak), stains give you every color in the rainbow to work with. Mimicking stained-glass patterns with stained woods can have a fantastic effect, particularly after a generous coat of lacquer.
One of the benefits of using wood is that it's great for using the v-carve inlay technique. It's not exclusive to wood, but certainly easiest to achieve since it's a very forgiving material when it comes to cutting and shaping. This video (Youtube) outlines the technique. This is a method that could theoretically be done with hand tools, but is much better suited for CNC machining.
---
Metal Inlays
In the guitar world, metal inlays are far less common than wood and shell inlays. You're more likely to find it in traditional furniture pieces. The term "Boulle work" was mentioned at the beginning of this article – Google that for some examples that utilize shell, wood, and metal all at once.
Metals typically used for inlay work include silver, bronze, pewter, copper, and gold. That doesn't mean steel can't be used – just that an alloy's malleability (for bending veneers), hardness (for cutting), and melting point (for…melting) affect its usability.
There's a number of other properties that are taken into account when working with metals, but for our purposes, this Mohs hardness chart will help you decide:
Method 1 – Cord/Veneer Filling
For the purpose of inlaying wood with metal, there are three main techniques. The first involves cutting and bending metal veneers or cords to fit in routed channels. It can be tedious work, and there's very little you can do to consolidate the process. But the results are undeniably excellent.
You can see a quick walkthrough of the process here (Youtube).
Method 2 – Pattern Transfer & Saw
The second method is essentially the same you'd use to create mother of pearl inlays. You can use the same jeweler's saw and jig to cut thin metal slabs with transferred patterns. Watch someone go through the process here (Youtube).
The second method also leaves open the possibility of performing the job entirely with CNC machinery. Just make sure you've got the right bits, feeds, and speeds! Routing metal is a little different from routing wood.
Method 3 – Melt & Cast
The third method involves pouring molten metal over routed channels. Once hardened, the excess is sanded away to reveal the design.
For detailed metal inlaying in wood, methods that don't involve melting the metal are recommended. It may seem easier to melt a lump of metal with a blow torch and pour it into some routed designs, but getting a clean edge can be difficult. Your choice of wood and your carving skills are going to make all the difference.
---
Epoxy / Wood Filling Inlays
Finally we come to the "easy street" option for inlaying. That doesn't make it any less cool though. Epoxy is being abused lately by YouTubers making billions of river tables, but it's actually a very versatile material. You can dye it any color under the sun, suspend particles or items in it, and fill carvings of any depth or level of detail.
Here's an idea: using a v-carving bit, you can create a design, paint the carved surfaces, then pour epoxy over it. It'll bring a new level of visual depth to your designs. If you're feeling particularly flashy, you can place a couple LEDs at ends of the routed channels. The list of cool stuff you can do with epoxy is long.
And, as you may have guessed, you can use plain old wood filler or similar products in a similar manner. These fillers are virtually all opaque, but you can still dye it or purchase pre-made colored fillers.
The video on the left shows how one man creates effective guitar inlays using plain white filler. On the right, you will see a monogram inlay being filled with an epoxy suspension of metallic particles of some kind.
So you've gotten your materials picked out and you have a design to work with. Now we're going to cut out the pieces.
When cutting out inlay pieces by hand, you have your choice of using a saw & jig, scroll saw, or a router/Dremel. Each option will require you to transfer your design onto the pieces of material you intend to cut out. For most people, that just means printing it out on standard 8.5×11" paper and gluing it to the material.
If you've drawn your design by hand, it's recommended that you make a backup copy before gluing. Standard Elmer's glue will do fine – just make sure you rub out any bubbles or creases.
Once your design printout is glued to your material, you'll just need to cut around the outlines. Sounds easy enough, right?
Cutting Out the Inlay Pieces
This section is broken into two parts, each respecting a different tool for the same job: the saw & the router. Neither is "better" than the other, but personal preference can play a huge part here. Some people find plunge routers are too easy to make mistakes with by removing too much material. Others find saws to be too difficult to navigate with, making for tedious work. It's recommended that you try them both some time, if you can.
It's recommended even more that you practice cutting around an outlined path on some scrap material before attempting on some pieces you may regret ruining.
As true as it is that each method has its difficulties, you'll find there are some unique benefits to each. A router makes for quicker outline cutting, while a saw allows for cutting both positive and negative pieces from multiple material slabs at once. You'll find out more as you get practiced!
---
Method I: Saw & Jig / Scroll Saw
As with most things in life and lutherie, there's more than one way to get the result you're looking for. The scroll saw is a great alternative to the traditional saw & jig, and they're quite cheap. If you don't feel like making yourself a jig or moving your hands back and forth, it's a worthwhile device.
Let's clear something up here for anyone confused about saw terminology. The saws you see being used for inlay cutting look like coping saws. And that's essentially what they are, but smaller. The frames are smaller, and the blades are a tad thinner. This allows for tighter turning (better for detailed work).
You may see saws that appear appropriate for the job being sold as jig saws or coping saws. But, to ensure you get exactly what you want, make sure you purchase a saw specifically labeled as a jeweler's saw or a fret saw. And when we say fret saw, it's not to be confused with a luthier's fret saw. Though we are using this fret saw for lutherie. Great, now that's all cleared up.
If you're the DIY-type, which you probably are, feel free to use this template to build your own jig. The template size is suitable for most home printers (A4 paper).
Note: there are two types of saw jig designs: those made to fit into vice grips, and those for use with C-clamps directly on a table top. The template featured here is the latter.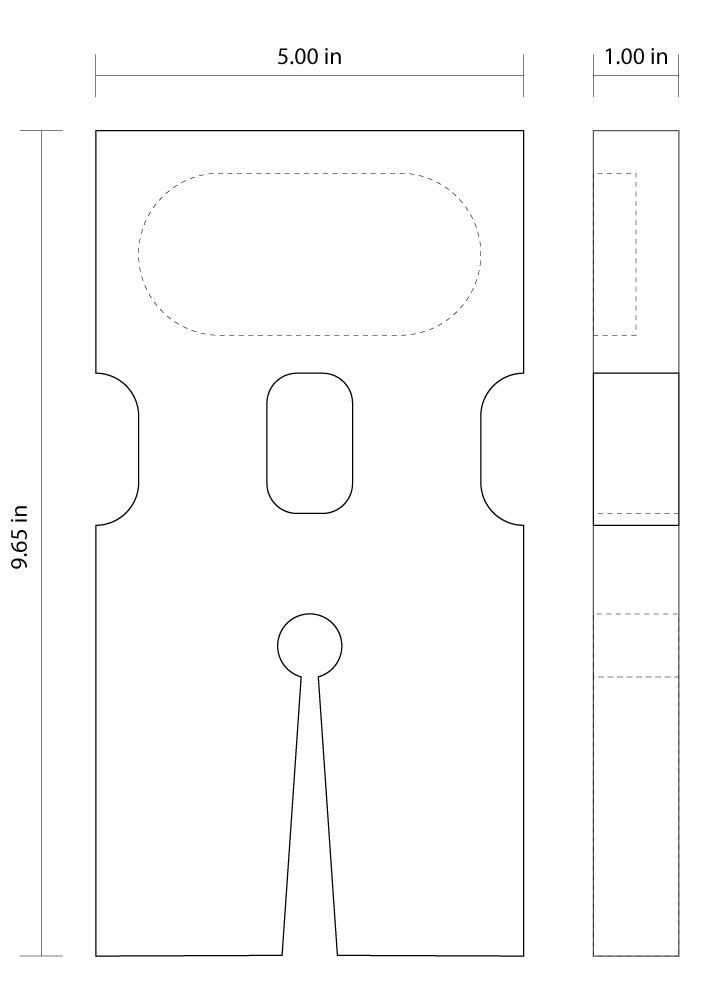 Now that you have yourself a saw & jig (or scroll saw), it's time to get cutting. On the left, you'll see Ben from Crimson Guitars with his soothing bald head and Southern English accent cutting out an inlay with a jeweler's saw and jig. On the right, we have a guy named Luke Mixter doing some very tight saw work (in case you were wondering how detailed you can be with your designs).
Stacked Cutting Method
The best thing about using a saw to cut your inlays is that you can cut positive and negative pieces at the same time. This is achieved by sandwiching together multiple pieces of inlay material at once. When a piece is cut from the top inlay material slab, you have perfect duplicates ready for fitment made from the other material slabs.
A small drill point is made for blade insertion into internal pieces that have no accessible borders. This can be filled afterward using sawdust/particles, or small cuttings of your inlay material.
As long as you are precise with your sawing on the first go around, you'll be saving a lot of time. This method is mostly useful for designs which feature internal pieces and differing positive/negative inlay materials.
Using a router removes too much material for this to be done with internal pieces, but it is still possible to cut multiple duplicate pieces at once using the layering method above.
---
Method II: Router / Dremel
For fine work like inlaying, a Dremel or equivalent rotary tool is preferable. The most obvious reason for this is due to the size being more conducive to working in tight dimensions. That's your author's opinion at least – some people prefer the weight of a full-sized router.
Visibility of your work is another reason – the Dremel's base and size has always been a better option there. That doesn't mean there aren't some full-sized router bases that can't get you a great view though. Bit sizes you'll be working with are likely going to be 1/8″ diameter and smaller though. That means you'll be better off using 1/8″ shank bits, of which the Dremel is built for. You'll have to have a special collet for your full-sized router to work with these bits. And if you use ≤1/8″ cutting diameter bits with a 1/4″ shaft on your standard size router to avoid getting an 1/8″ collet….you risk losing a tiny bit more visibility for your detailed work.
This is all very tedious stuff to complain about, it's true. If you opt for a full sized router, just make sure you have a steady hand and a base that allows clear view of the work area.
If you click the Amazon link to the right, you will find a Dremel set that includes a base and various add-ons. Essentially, everything you need except the bits. Those are coming right up though, so read on!
Inlay Routing Bit Selection
The breadth of available bits for your chosen routing device is virtually endless. We won't be learning about them all today, but we can talk about a some preferred options for our specific task.
The cutting approach is the main factor to consider for selecting an effective router bit when cutting inlays by hand. CNC machining requires more thought given to spindle speed, movement speed, material, and tool changes.
We can forget those extras when manually routing though since you can adjust your rotational speed and movement as needed.
With basic inlay cutting, you're only making two cutting motions: plunging and scribing. Plunging is just a fancy word for drilling a hole with a downward motion. Scribing is just a fancy word for cutting around a path. We'll be making single through-cuts, which means your bit will cut the entire depth of the material at once.
Straight bladed bits and spiral bits (upcut & downcut) are what we're looking for. Generally, spiral bits are considered to be superior to straight bits. That may not be true in every circumstance, but for inlay cutting, it seems to be so.
The reason for this is because a straight-bladed bit does not allow vertical plunges. To plunge a straight bit, you need to have some lateral movement. It's not a massive issue, especially since you can still come in from the edge of the piece. But you will find there are many scenarios where you need a straight, downward entry point in a tight space.
A spiral upcut bit allows for easy plunging before you start cutting around your pieces. A downcut bit is able to be used for inlay cutting as well, but its plunging abilities are limited to counter-clockwise rotation.
So in the end, a spiral upcut bit is the best all-around tool for easy inlay routing. You'll also find it's great for the next step (debossing).
Note: if you are cutting a material that is having issues with surface chipping or tear out, and you've adjusted your router speed and cutting motion, you may want to change bits. It's recommended that you do research on upcut vs downcut usage scenarios, as well as look into spiral compression bits.
Positive Inlay Routing Tips
Tip 1: If you decide to use a router to cut out your positive inlay pieces, you should fix your blank inlay material to a piece of scrap wood before cutting. This way, you can clamp the scrap wood down and make sure you have a steady work surface. It also prevents pieces from moving once they've been cut out. You don't want your inlay pieces flying all over the place or jumping back into your router bit and ruining themselves. Double stick tape or light wood glue is usually just fine.
Tip 2: Router bits can be found in diameters of .5mm, maybe even less. This allows for a great amount of detail, but they are circular by design. So If you come to a tight corner, just get as close as you can without going over your outlines and come back with a chisel afterward to get the angle cut.
Now you've got your pieces cut out, it's time to cut the inlay seat out. Saving the debossing portion of the job until after the scribing of the pieces will make things much easier.
The reason we did the positive pieces first is because you can lay them on top of the work surface and scribe around them.
Scribing the pieces has two purposes. First, you have a perfect outline irrespective of your original design. That means any little differences made whilst delineating your positive pieces with your saw or router will be accounted for.
Second, you can prevent chipping from occurring on your work surface. This is particularly useful since you'll likely be using a Dremel to cut out the inlay negatives. If you recall, the recommended bit was a spiral upcut.
That means that the chips of cut material are being pushed upward as your router bit spins around. As this is occurring, the wood's surface is liable to splinter and pull away, leaving chips around the edges. Some woods are more prone to this than others.
Regardless of the wood you're using, scribing can eliminate this by performing the initial cutting of the surface safely with a blade. There are a few tools suitable for scribing, but you'll find most people use an X-Acto knife with a light blade.
Note: using a downcut router blade for the negative carving portion of your inlay job is a great way to avoid surface splintering. The downside is that you may have to perform the initial plunge with a different bit. You can also purchase a special compression bit (combination of upcut and downcut flutes) – just ensure that it's suitable for the light depths we're using.
Recessing the Inlay Seats (Cavities)
We're going to use a router / rotary tool / Dremel to do this part. It's understandable if you were hoping to get some instructions for traditional methods using a chisel, there's a charm in working without electricity. But chances are, 100% of carpenters from a century ago would be jumping at the chance to route their channels out.
The process is fairly straightforward:
Place your positive pieces on your work surface. Feel free to put a couple dots of glue on the bottom to fix them in place.
Scribe around them using a suitable instrument. Not too deep, just a faint line.
Remove your positive pieces from the surface – take note of their thickness.
Set your router/Dremel and base on the work surface. Set your base depth stop slightly smaller than the positive inlay piece. This will leave a tiny bit of the top protruding once seated.
Select a suitable size bit. Plunge the router into the work down to the depth stop, then begin driving it around careful to stay in the lines.
Once you've removed all the material to form the negative, go around with a chisel to gently chip out any inner angles that the router bit couldn't get.
Check out the video below to see the inlay negative carving process:
For those of you still wishing you could just keep it down to low-tech tools, check out Ben from Crimson Guitars using an X-Acto knife and a chisel to get the job done. Not to deter you, but keep in mind, he's got a very simple, angular piece of positive inlay material to work with. It may not be so easy with cursive lettering, so practice a couple times on scrap wood before ruining anything.
Now we come to the final phase of the inlaying process. The hard stuff is over, you just need to make everything fit and pretty.
First, check that your inlays fit the negative cavities you just routed/carved. A little wedging is fine, but if you have a detailed piece with thin protrusions, you don't want to be forcing it too hard. Especially if it's made from a more brittle material, like shell or a ceramic piece of some sort. You don't want to break anything.
If your inlay positive isn't fitting and you feel that the piece is perfect and shouldn't be shaved down to fit the cavity, the only solution is to get back into your cavity and widen it. This can be a little worrisome at first because you don't want to go too far and create a gap. We will address that shortly, but in the meantime, just remember that wood is a very forgiving material. We can fill any gaps afterward.
You may wish to re-scribe your piece if the fitment is significantly far off.
Gluing Your New Guitar Inlays
Gluing is easy enough to do, but choosing the right stuff can be an annoying process. There's a lot of different ones out there. The fact is, most will get your inlays fixed in place.
However, when you're working with different materials, you may want to choose something stronger than standard wood glue. You want to select an adhesive that bonds wood, ceramics, plastics, and metals. Most super glues (Gorilla Glue, Krazy Glue, etc) will handle that.
As long as you're careful not to use too much, superglues are fine – try to apply it only to the bottom of your inlay positive though. You'll see why soon.
Dan Erlewine, a smart and patient man, might not agree with the aforementioned super glue recommendation though. That's why StewartMacdonald supplies two-part epoxy products specifically for inlaying. They come in fast and slow setting formulations, as well as black and clear colors (to match ebony or lighter fretboard woods).
The benefit here is that the setting time allows for some adjusting of your piece to seat it properly if needed. It also allows you to mix dyes to color match and fill cracks. Check out their products epoxy products for guitar inlays below, and be sure to watch Dan explain the filling process himself in the next section.
Once you've gotten your inlays glued into their respective cavities, you may find visible gaps in the edges. The solution is quite simple: fill it with something that looks like the surrounding wood. Before we speak about any other processes, let's just take a quick look at Dan Erlewine using his epoxies to get the job done:
Now, if you're a perfectionist and are looking to get a perfect match, you may prefer the following method. About 15 years ago, your author was taught to use super glue and sawdust for repairing various chips, dings, holes, etc. You'll find it's perfect for filling inlay cracks as well.
It's extremely simple to do:
Take a piece of wood that matches the work surface you're trying to fill.
Shave off some fine sawdust particles with 300 grit paper or similar. Collect them in a small container.
Pack the cracks you wish to fill with the sawdust.
Drop some viscous, clear super glue over the sawdust. Allow it to absorb and set completely.
Sand off the surface.
That's all there is to it! If you are worried about the color match quality, just do a practice run on a piece of scrap wood first.
Tips for Finishing the Job
If you cut your negative cavities to the correct depth, you should have a tiny bit of protrusion from your positive pieces. That's perfectly fine, because we're going to sand everything down. In fact, we wanted that protrusion. This way, all surfaces will be getting matching sanding and polishing treatment. It helps ensure your positive pieces are also perfectly flush with your work surface too.
There's not much new to learn here if you've already built a guitar and finished it. That's because you're going to give your inlay surfaces the same exact treatment you'd give the surrounding surfaces.
When sanding, make sure to move up through grits: 300, 400, 600, 800, 1000, 1500. You can go higher if you like, but it's usually not necessary.
If there is any staining going on after you've set your inlays in place, just know this: wood stain can permanently discolor other materials as well. You should do any staining before inlaying.
---
If you follow these instructions, you will be able to produce some beautiful works of art!
Before closing the book on guitar inlays though, know this: you are not an expert yet.
This article is attempting to distill a massive subject with many variables into a digestible piece of content. It does a good job of that, but inlaying is an industry in its own right apart from lutherie. There are many artisans who specialize in guitar inlays and nothing else making a living out there. Hopefully you have the confidence to go out and start practicing now!