DBZ / Diamond Guitars Barchetta
DBZ Barchetta BARQM Specifications:
Pickups
EMG 81/85 Active Pickups
Bridge
Floyd Rose 1000 Series Bridge
The DBZ Barchetta is an objectively beautiful guitar, there's no doubt about that. High gloss finish on a beveled quilted maple top with a silver stain, natural binding, and pearl inlays. It's strange to see such an attractive guitar coming from a company with questionable taste. In spite of what's going on behind the curtains, the DBZ Barchetta delivers all the amenities a guitarist could hope for with a fine finish and fair price.
DBZ / Diamond Guitars
The company behind the Barchetta is now called Diamond Guitars. They've undergone three name changes in their very short existence, and multiple domain names to go along with it. Having only been founded in 2008, they're a young company – so the name issues can be forgiven.
They continue to straddle between the two names – you'll find official copy and images on the internet that use both DBZ and Diamond Guitars. This creates a little bit of confusion for prospective buyers, as their listings usually have both company names.
You might be surprised to learn that the brand's founder is also the founder of Dean Guitars. That's the equivalent of "box office poison" for the guitar industry. Nonetheless, they've put out a pretty cool lineup of electric guitar models. And the Barchetta reviews definitely wipe the slate clean.
Unfortunately, their marketing department has an affinity for gaudy crap, presenting their instruments in busy advertisements that are dominated by race cars, motorcycles, leather chairs, army guys, and cheetahs.
Their graphic design team has clearly been instructed to sell the instruments to impressionable 14 year-olds looking to purchase an identity along with their guitar. This is a shame for a sleek, flashy model like the Barchetta, because it can clearly sell itself. Let's talk about that instead.
Quality, fit, and finish
For all the company's offenses, the DBZ Barchetta lends them the type of credibility that Dean could never have. It's worth noting that this model comes in a variety of finishes, stains, top woods, and bridge options – you can see them all here.
Original Body Design & "Binding"
One of a few stand-out features on the Barchetta is its natural "scraped" binding. Instead of wrapping a piece of naturally finished wood around the body, they achieve the effect by leaving an unstained bevel on the edge. Technically, it's not really binding, but the effect is the same – and quite interesting on closer inspection. It provides a nice contrast to the body wood as well.
You'll notice that the beveled edge runs onto the body along with the horn contours. This is a design unique to the Barchetta, and it really puts a stamp of originality on the guitar without having to stray too far from the classic super-strat horns. The back routing is minimal, which has never been a real problem for anyone over 90lbs.
Let's take a moment to congratulate DBZ (or Diamond Guitars) on a stylish, complimentary headstock design that adds even more originality. Or, at the very least, thank them for not borrowing that gaudy lumbering turd headstock from Dean's workshop.
Quilted Maple Top
The horn accents also make the carved top more apparent, which is another stand-out feature in itself. The BARQM model being reviewed has a beautiful quilted maple top, which seems to be a rarer option compared to the availability of flamed maple variations. Perhaps it's a matter of wood availability or sales demand.
The quilted top has a level of depth that flamed patterns simply don't reach. When coupled with a light gray stain and a high gloss finish, the figuring jumps off the body. The light refraction gives the impression of a metallic silver finish rather than gray, which pairs nicely with the nickel hardware.
Contoured Set Neck
A point of pride for DBZ (Diamond Guitars, whatever you're going with) is their neck joint design. It resembles some Gibson or acoustic models, utilizing the full height of the body as a contact point. The contour is a very short ramp up to meet the body so there's your access to the upper frets is almost completely unfettered.
Our contour feels fast, comfortable and as if the neck joint isn't even there.
-DBZ / Diamond Guitars
Hardware & Bridge
The Barchetta doesn't skimp on quality when it comes to hardware – there's no cheap licensed parts here. The Siberian Quilt version comes with an original Floyd Rose 1000 Pro Series bridge, Grover tuners with a fine adjustment ratio (countersunk tension regulating), and matching all nickel hardware.
The Floyd Rose 1000 Pro Series
There's a little confusion over the 1000 series bridges regarding their manufacturing standard. They are not licensed bridges, they are simply manufactured in South Korea rather than Germany. It is an original Floyd Rose product, made from the same materials in the same dimensions.
The Pro Series is a lower profile version of the original Floyd Rose, but maintains the .42″ string spacing. All parts are cast with steel and will provide the strength and stability you'd expect of a bridge built to be roughed around.
Pickups / Tone
If there's one safe bet you can make when it comes to buying a guitar, it's this:
Floyd Rose Tremolo + EMG Pickups = Instant Metal
That's just a fact of life. The Barchetta uses the EMG 81/85 formula to great effect – you can't really go wrong with this combination if you're looking for an aggressive tone.They have a very quick attack, have a higher gain without muddying the note definition, and a very angry voicing that favors the mids-treble side of the spectrum.
(Tune-O-Matic flamed maple version)
But let's not pigeonhole the EMGs into a metal-only category. You can plug an 81/85 set into a more transparent amp setup and roll back the volume knob a tad and discover that they're quite musical. The voicing is still on the treble side, but a little adjustment on your amp can compensate. The great thing about active pickups is that they can be easily manipulated since there's very little lost between the strings and the amp.
Overall Impression
The DBZ Barchetta is a fantastic model and worthy of all the praise it's received. Diamond Guitars may be a new company with some issues to work out, but that hasn't affected their ability to build a high quality guitar. They don't cut any corners with their hardware choices, and they've established themselves as a solid option in a saturated market.
The Barchetta's success could be attributed its design originality. On paper, it may not look like groundbreaking work – Floyd Rose, EMG, set neck, carved top. But the details are where all the innovation lies that set this guitar apart from the tons of other models with similar specs. It's stylish and flashy without being over-the-top….close to the edge, but not over it!
The Barchetta is definitely a guitar you can buy in confidence.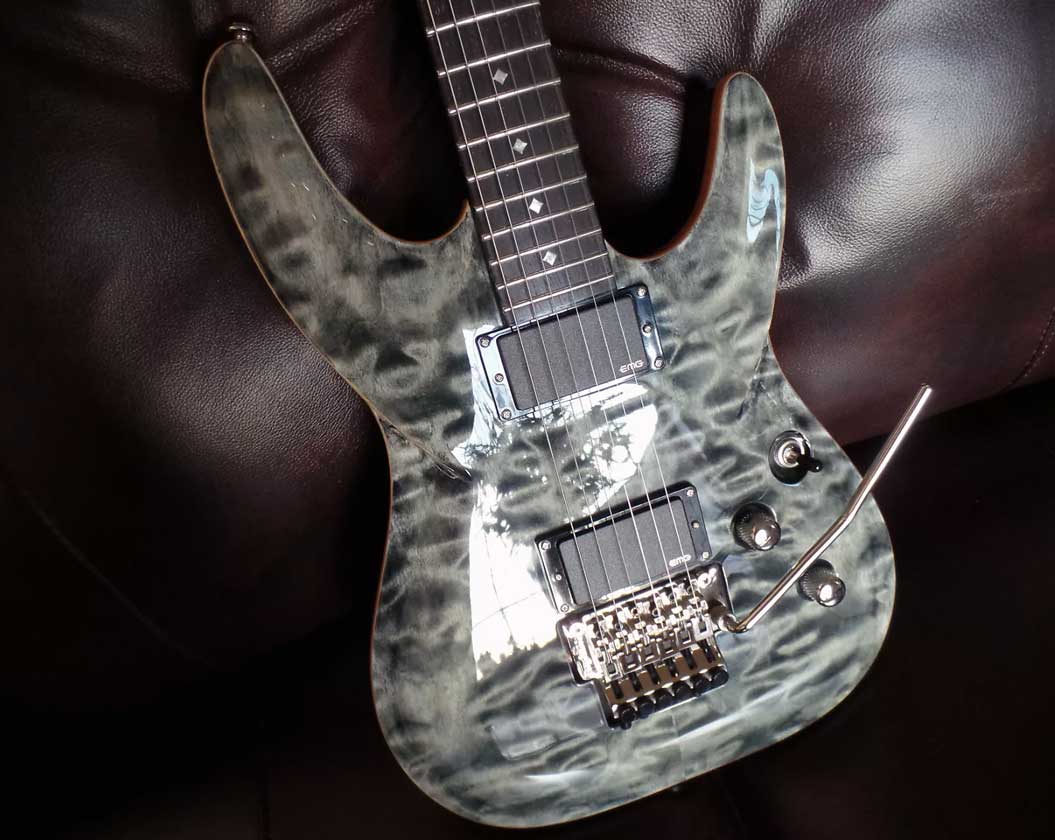 If you're looking for something a little less flashy with similar specifications, the Kramer SM-1 may be more up your alley.