Earlier this year, Gibson participated in the Consumer Electronics Show (CES) in Las Vegas and caused a stir amongst fanboys who caught a glimpse of what might be their newest model. There was no unveiling or any acknowledgement of the guitar at all, and it was only brought into focus when someone spotted it in an unassuming photograph of Gibson's line-up for the show.
Needless to say, Gibson fans the world over had collectively jumped into overdrive-speculation mode, posting furiously in the comments sections of zZsounds and Guitar Player Magazine.
People made attempts to compare and liken the instrument to other models (both Gibson and otherwise) – and some people actually thought that the guitar wasn't a prototype, but rather a re-released version of a previous model. Taking that into consideration, some of the guitars on this list can seem pretty downright stupid:
Gibson M-III
Gibson Tak Matsumoto Special
Gibson LP Doublecut
Washburn Princess
Electra Talon
EVH Wolfgang
Check below for a few images of the compared guitars.
The mystery guitar is a dual humbucker, 24-fret, voluted bolt-on, tune-o-matic – and while this is nothing spectacular compared to guitar world's current innovations and novel designs, any deviation from Gibson's "Traditional Guitar Company" image is bound to make waves. It looks like a Les Paul with a double-cut with one horn reaching upward.
Nonetheless, 24-frets and a Vol/Tone knob combo brought about further speculation regarding Gibson's failed lawsuit against Paul Reed Smith. According to some, this would be Gibson's attempt at justice. Really though, it's just Gibson trying desperately to release something other than the same damn Les Paul variations over and over and over and over and over and over again. But will their fans let them?
Final Thoughts on the 2017 Gibson Prototype
Regardless of my barely containable contempt for the brand-obsessed furor, I actually really like the looks of the new model.
Gibson was one of the most innovative, progressive guitar companies ever and even though no one can take that away from them, they've fallen into a rut selling the same models year after year. However that came to be, they've had a hard time breaking out of it. I'd be happy to see them make an effort to get back into their more inventive roots.
Considering the specs and the fact that I like the appearance (dunno if I could do it without the body binding though), I believe I'd choose this new prototype guitar over a Les Paul any day.
Some of the examples that Gibson fans found similar to the mystery model (or actually claimed the mystery model to be):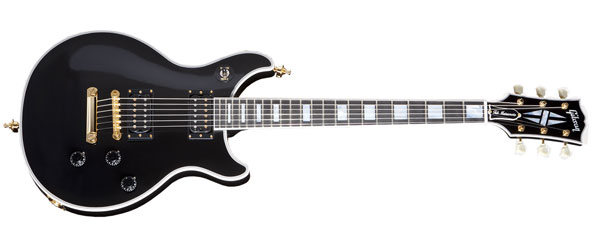 Here are a couple standout quotes from Gibson fans in regards to the new prototype model:
"Sorry…ugly guitar…would never even consider buying it….no matter how good it played"
"I am glad that gibson is moving away from the horribly placed four knobs and moving into a more modern actually comfortable shape. The knob placement is great for messing with controls while playing on this one. They also have very thin necks almost like a PRS. Amazing models. Great for modern styles such as progressive metal. I hope traditionalists don't hold this model down as well"