Description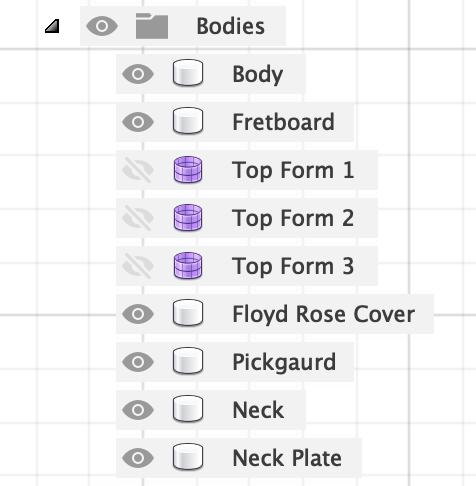 Accurate Guitar Model for CNC
Based on a 2013 Jackson JS32 Rhoads V.
Features
Properly labelled & organized work
Faithful, accurate designs
2D sketches included
All suitable formats for CNC (F3D, STEP, IGES)
Available Filetypes
F3D (Fusion 360 native)
STEP (vendor neutral)
IGES (vendor neutral)
Model Notes:
The following drill dimensions are used:
Tuning machines: 10mm Ø | Controls: 8mm Ø | Panels: 2mm Ø
This model does not include the following (allowing for user preference / variable hardware):
Truss rod slot (location sketch included)
Output jack (location sketch included)
Bridge posts (location sketch included)
Jackson-style inlays (sketch included)
CAM toolpaths
* Neck pocket & panel recess offsets may be made in the modeling environment or with CAM processes. Offset size recommendations begin at .015″ to .02″ for neck pockets and .02″ to .04″ for panel recesses.
Download the DXF / PDF / Vector templates here!