Yuriy Shishkov is well known for his beautiful instruments and intricate inlay work, and has worked with some of the biggest names in rock music. Seventeen years ago, he began working in the Fender Custom Shop, where he is now known as a senior master builder. It's a respectable title that would be the pinnacle of any luthier's career and as you look over his instruments here, you'll understand how he earned it.
But his original inspiration that began his path as a luthier wasn't so much from the beauty of hand-crafted instruments, but the frustration of being surrounded by terrible ones.
He grew up in Belarus while the country was still a Soviet satellite before moving to the US in 1990 at the time of the Soviet Union's dissolution, which means he suffered the entirety of the Soviet electric guitar era. This was undoubtedly the most frustrating time to be a guitarist, and many luthiers were formed from the sheer necessity of needing to repair and improve your own instruments.
[You can read more about the struggles of a guitarist in the USSR in the interview with Vladislav Slivanov below]
It all began in 1969 – for some perspective, this is the year The Beatles gave their final performance, Jimi Hendrix played the Star Spangled Banner at Woodstock, and Led Zeppelin released their debut album. Rock music and the electric guitar had already taken over the Western world, but over in Leningrad (now St. Petersburg) a group of luthiers in a government factory were just finishing the first Soviet solid-body electric guitar.
That guitar – the Tonika – is widely regarded as one of the worst ever made. Virtually everything you can think of that could be wrong with a guitar were the Tonika's trademarks. And from there, it was a slow ascent to playability. Factories continued to sprout up around the Soviet Union's territories, produce a few guitar models for a period of time, then disappeared.
Soviet-era guitars were generally regarded as unplayable – but they were a the only option for working-class citizens. Japanese and American guitars could be bought on the black market, but the prices were completely unrealistic. This is what drove Yuriy to try his hand at lutherie, as he explained on his now defunct personal website (available via archive.org):
"Probably, it makes no sense to talk about what guitars were then released in our homeland. They were terrible, and it was very difficult to play on them…"
"So several years later, after I started playing, I decided to try to make a guitar on my own. I did not plan on making guitars in the future and I thought I'd make just one guitar for myself. This happened in 1986. I was 22 years old.
I did the guitar in the most difficult conditions. I did not have any equipment, and I worked literally on the floor of the toilet. But the result, after all, was positive. The resulting guitar was much better than those that could be obtained at that time in the USSR."
That first guitar that he built was a Fender design – very fitting considering his current position. The entire guitar was modeled after a Stratocaster, except the headstock – he preferred the look of an Ibanez Roadstar to the traditional Fender headstock. His friends were very impressed by his attempt, with one asking him to build another. He did, and thus began his journey into a new career.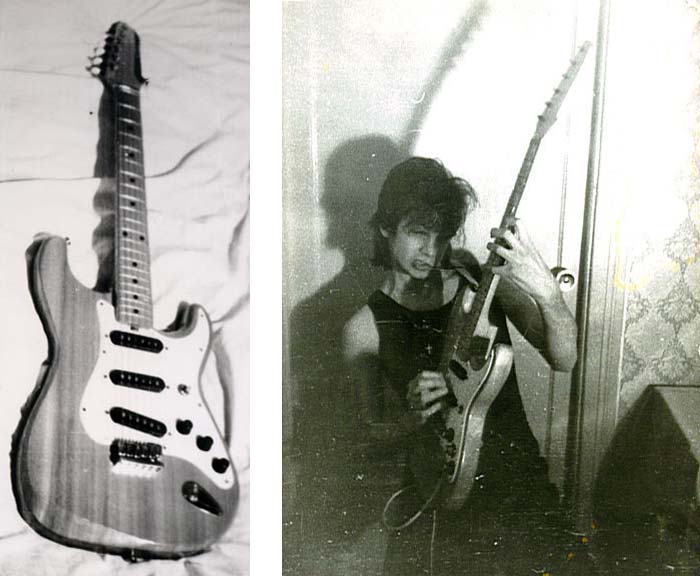 Yuriy made a workshop for himself by converting a tiny root cellar at his home in Gomel, Belarus. As you can see in the photo, the room isn't too much wider than a guitar.
His second complete build was a Jackson-style guitar, complete with a locking vibrato bridge system a la Floyd Rose. The quality is remarkable considering the lack of materials and his limited access to tools.
He went the extra mile by painting elegant lettering onto the headstock that looks like it was done on a printer – his delicate hand would become a hallmark of his work later on, particularly with his inlays.
"At that time it was impossible to get materials, there were no tools, no literature, no accessories. Everything had to be done by yourself – starting from the lining, pickups, bridge, pins, ending, of course, with the neck and hull."
Yuriy first came to the United States in 1990, taking up residence in Chicago. He worked extremely hard to establish himself, securing a position with Washburn only a year later. He was soon building guitars for Dimebag Darrel, Robert Plant, Jimmy Page, and Paul Stanley (among others). His instruments became more and more intricate as time went on, and eventually he was recruited by Fender to work in their custom shop as a master luthier in 2000.
He incorporates two-dimensional carving along with detailed inlay work (often using precious metals and diamonds) in his designs frequently, giving his instruments the aesthetic value of a work of art rather than a tool. Take a moment to appreciate some of his guitars below.
'Pinecone' Faberge Stratocaster
Vladislav Selivanov (a Soviet guitar collector and contributor on SovietGuitars.com) tells us a little insight into what it was like as a guitarist living in the Soviet Union:
What is your direct experience with Soviet-era guitars?
I've been playing Soviet instruments since the 90s, when there wasn't much choice. I've been researching and collecting them for the last 10 years.
Can you tell us why is it has been so difficult to find information on the guitars?
It is hard to find info on guitars and models because the factories (there were around 20 of them) ceased to exist in the early 90s. No one needed their archives, and they were often discarded by the new owners. Only in the course of the last 10 years or so there has been a rise of interest towards those instruments, and a group of enthusiasts have been restoring their history. Almost all guitar models have been discovered, and their model range [production quantities] has been researched.
What was the public opinion on Soviet-made electric guitars?
The general public opinion is mostly negative due to quality. Guitars made in GDR / Czechoslovakia had higher value, as they were quite solid playing instruments even by today's standards. However, it was extremely difficult to get any guitar in USSR, so players used whatever they could score.
Were there any Soviet rock stars?
Rock music in the USSR before late 80s was not very welcome. There was a certain pressure on musicians, from the state, and players used any gear they could get. After Perestroyka, rock music has surfaced from the underground, and began its way to the big stage. Musicians got an opportunity to tour abroad, and buy more expensive gear. I can name some good bands from that era – "DDT", "Звуки Му", "Кино", "Аукцыон". They had concerts abroad even before the fall of USSR, and were received well.
What was the cost of a Soviet guitar at the time? How much was this relative to the average salary of a man living in Soviet Russia?
An electric guitar was from 120 to 210 rubles in USSR. Czechoslovakian or GDR guitars were more expensive. Average engineer's salary was 120rub, so it was very hard to afford to buy a guitar, and few people had them. However, there was a guitar in any school, public hobby house, army hobby center, or factory recreation facilities. So in practice, if you wanted to play one, you had easy access to a public instrument. People also made guitars themselves at home, and blueprints / schematics for building a guitar were available in magazines like "Radio", "Modelist-constructior", and other similar ones. Acoustic guitars were considerably cheaper, around 14-25 rub, and many homes had one.
Note: the official conversion rate for that era was 0.58 rub : 1usd
What was the government's position on American rock music? Did they consider the electric guitar to be an American instrument?
It was considered a western influence. However, there has been a rise of vocal-instrumental ensembles ("VIA") since the 70s, with increasing interest of the young people for music, and the State made steps to create opportunities for bands to perform, producing new musical instruments and electric guitars in particular. An electric guitar was not considered a western influence, and its schematics were easily accessible to anyone. The bands' repertoire, however, was strongly validated and controlled, and you could not play anything you wanted.
July 24th, 2017